50th anniversary "It's been a fantastic journey"
28. February 2023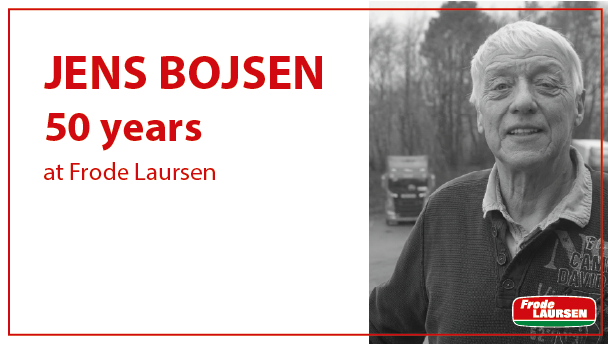 On 1 March, Jens Bojsen celebrates his 50th anniversary at Frode Laursen.
Not everyone can boast of having worked at Frode Laursen for more than 50 years – and also of having worked closely with all three owners in that time. Nonetheless, this has been the case for Jens Bojsen (73), who started in 1973 as a driver at Frode.
"The first 5-7 years were mixed haulage jobs. At the beginning of the week we collected pigs and cattle from the farmers for the abattoirs in Hadsten and Aarhus, while the latter part of the week was spent transporting various agricultural items," says Jens.
Later, furniture and groceries were added, before he spent his last stint on the road driving regular trips between Jutland and Zealand, and which involved spending every night of the working week in his cab. In 1989, Jens was offered a job at the office, which he accepted. Initially, he was responsible for drivers and the terminal, and then he became involved in customer contact, before being gradually put in charge of certain parts of operations.
"In the early 1990s, we started a hauliers department up – and which I still help manage – where we employ hauliers and assume responsibility for truck sales and leasing. It's been quite a journey, and a great experience being part of Frode's development from 1973 to what the company is today. It's a fantastic company to work for, and I hope that I can continue here and keep doing my bit," says Jens.
Away from work, Jens is busy with a lot of DIY projects at his house in Stilling, and is hoping to spend more time at his house in Malaga in future.