Double trailers on the way: ROCKWOOL sees huge potential in the green transition
12. October 2023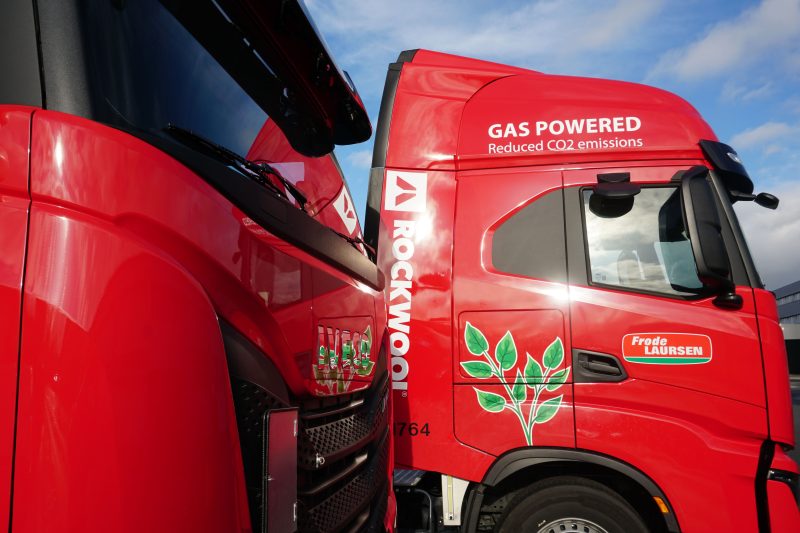 A coming bill from Thomas Danielsen (V), the Danish Minister for Transport, means that from 2024 a five-year pilot project will commence with double trailers (DUO2) running between Aarhus and Høje-Taastrup outside Copenhagen. According to the insulation manufacturer ROCKWOOL, the initiative is an important component in the green transition, and one they believe holds huge potential.
"We're doing a lot to reduce our CO2 emissions, not just in the production of our building materials, but also in connection with the rest of our business, such as logistics. Therefore, we're very positive about the prospect of using double trailers, because it offers excellent possibilities for reducing the number of trucks driving from our Jutland factories towards Zealand, and thus benefits our climate accounts. We've been collaborating with Frode Laursen for a long time to find transport solutions that match our products, and as it is primarily volume rather than weight which is the limiting factor, this initiative looks very promising," says Michael Rasmussen, Nordic Supply Chain Director at ROCKWOOL.
Double trailers can be up to 34 metres in length, which increases their payload capacity and volume to such an extent that the carbon footprint per truck is reduced by 30-50% compared to a normal tractor unit and trailer.
"Double trailers represent a significant reduction in CO2 emissions, and therefore it's an initiative that we want to avail ourselves of as part of our sustainability drive," says Michael Rasmussen.
Frode Laursen: Just waiting to get the green light
Frode Laursen is also ready to start implementing the new double trailers. The company expects that it will soon have 25 of the trailers operating between Aarhus and Høje-Taastrup as soon as the green light is given, and that this number will increase to 200 if the pilot scheme is expanded to include the remaining road train road network.
"The advantage is, of course, that we already have a lot of very positive experience with road trains in terms of both traffic safety and operation. In by far the majority of cases, we can drive directly to recipients via the road train road network, and when it isn't possible, we use last mile distribution for the final stretch. So, given that we can get the road trains to function, I don't think it will be a problem implementing the double trailers. All we're waiting for is the green light," says Frank Wolf-Jürgensen, Sales Director Transport at Frode Laursen.
Experience from the road trains
ROCKWOOL already has a lot of 25-metre road trains driving on the Danish road network, and therefore Michael Rasmussen, like Frank Wolf-Jürgensen, is also hoping for an expansion so that the double trailers can be used on even more stretches alongside the road trains.
"Today, we're already working with alternatives to traditional transport, among other things in the form of biogas and electrically powered trucks, but also the road trains which, with a 20% reduction in CO2 emissions, have been an important element in our sustainability work for many years. Therefore, it makes complete sense for us that the double trailers are the next step in this work. I'm hoping therefore that the road network in the pilot scheme will be expanded further to include the road train road network and that it is also extended across Denmark and Sweden, for example. It will make it even more possible to reduce our CO2 emissions," says Michael Rasmussen.