Frode Laursen invests in green transport of FMCGS
20. May 2016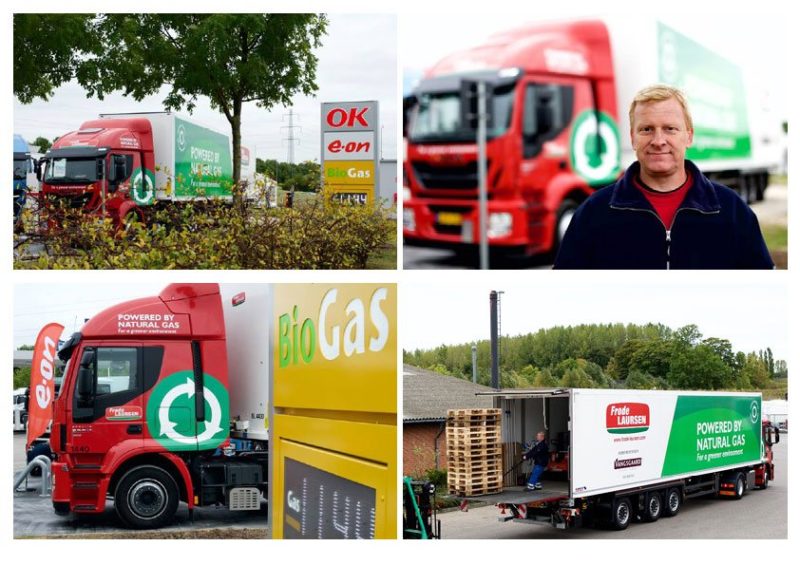 With the purchase of this Iveco Stralis semi-trailer that can run on natural gas and biogas, Frode Laursen is now leading the way in trialling the green distribution of FMCGs in the Danish transport sector.
With the purchase of an Iveco Stralis semi-trailer that can run on natural gas and biogas, the transport and logistics company Frode Laursen is now the first in Denmark with an ability to distribute FMCGs with environment-friendly gas in its tank.
In the first instance it will be consumers in the capital city region that will benefit from this new distribution method, as the semi-trailer will be distributing FMCGs starting from Frode Laursen's terminal in Tølløse near Holbæk.
"Frode Laursen has a strategy to help promote and be visible in initiatives relating to improving the environment. The purchase of an Iveco Stralis using gas is part of this strategy and helps to reduce our emissions. At the same time it's a test of how the combination of gas and a total weight of 40 tonnes works for distributing FMCGs. We'll get a clearer picture of the consequence of gas for overall driving economy," explains Jan Skov Pedersen, Technical Manager at Frode Laursen.
The purchase of the semi-trailer that can run on natural gas and biogas has been co-financed by the Danish Energy Agency as part of the project entitled "Using gas-powered vehicles from the Høje-Taastrup Transport Centre". The project includes the awarding of funds for environment-friendly investments in gas-powered goods vehicles.
"With a desire to create a greener and more sustainable profile, we're extremely delighted about this opportunity to collaborate with the Danish Energy Agency – and the benefits of being a first mover, that experience tells us, will follow," says Jan Skov Pedersen.
Within the last few years Denmark has gradually started to develop the distribution of biogas and natural gas as fuel, in particular for buses and trucks. In the first stage there are a number of towns that have switched to gas, and Copenhagen and other towns are replacing their diesel-powered refuse collection vehicles with equivalent vehicles that run on gas. Frode Laursen has now taken the initiative to ensure that the private transport sector is joining in with the trend, which is also happening in a number of other countries such as Sweden, Germany, the Netherlands and Italy.
The gas initiative is a consequential step for Frode Laursen having invested in environment-friendly production for many years. This includes, for example, alternative biofuels with lower emissions in large parts of the vehicle fleet, diesel-efficient training and a focus on drivers' driving style, as well as energy-saving LED lighting in the large warehouses.
Contact:
Frode Laursen: Technical Manager Jan Skov Pedersen, tel. +45 8764 6471, japed@frode-laursen.com