It's so fascinating
19. November 2019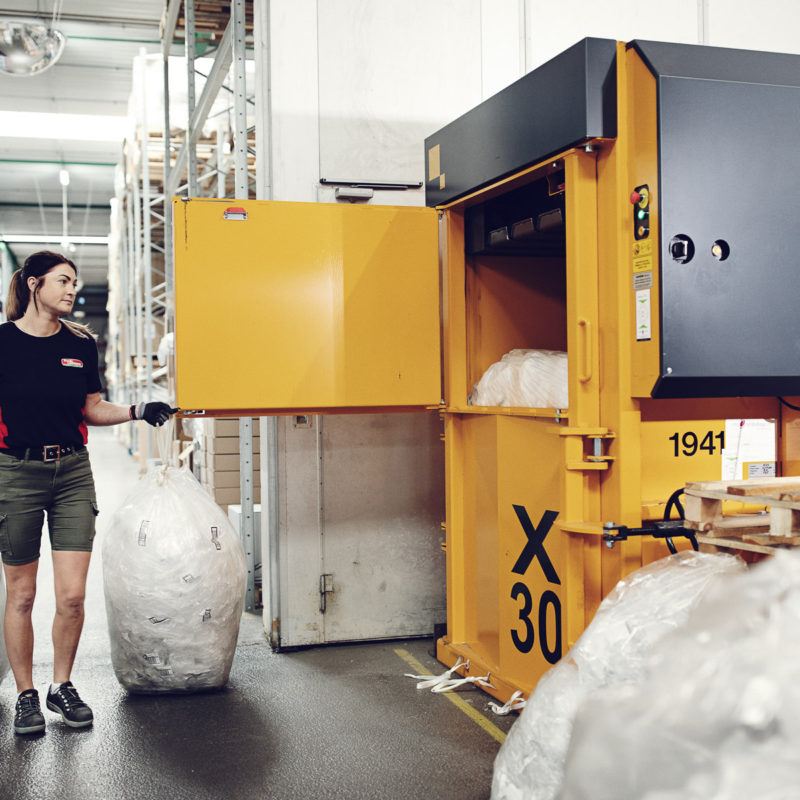 Waste sorting is happening at full speed near the co-pack area at Jyderup 2. Plastic bags are being crushed to almost nothing in the yellow compactor, while a large box of cardboard waste is emptied into the cardboard press 100 metres further down the warehouse corridor.
– Last year we sent more than 432 tonnes of cardboard and 40 tonnes of plastic to recycling, and this year it seems there will be even more, says Søren Manum, who is the packing and personnel coordinator at the Logistics Centre in Jyderup and responsible for managing the waste at Frode Laursen's second-largest location.
– I think it's so fascinating. It is waste, yes, but it is about how we can make the most of it – also in terms of recycling much more of what we throw out, he says.
Waste must be sent to the right place
Frode Laursen has sorted both cardboard and plastic for several years, but over the last 4 years, the waste sorting has become more streamlined, and we have also begun to sort other things, such as metals, glass and organic waste. While all the employees in the warehouse help to sort the cardboard and plastic, only Søren ensures that the rest of the waste is sent where it provides the most value.
– These are goods which, for example, have production defects and must be destroyed. So, I walk along the warehouse shelves and find what we have to get rid of – be it plastic, glass, foil or something completely different. After that, I make sure that it goes to the right place.
Concrete, green solutions
Although Søren thinks we have become much better at sorting waste over the last few years, he also knows that we can do even better further on.
– There keeps being better and more evolved solutions within this area, and I really think that it could be awesome to offer our customers even more concrete, green solutions.