Meet Thorben: I love development and challenges
4. October 2018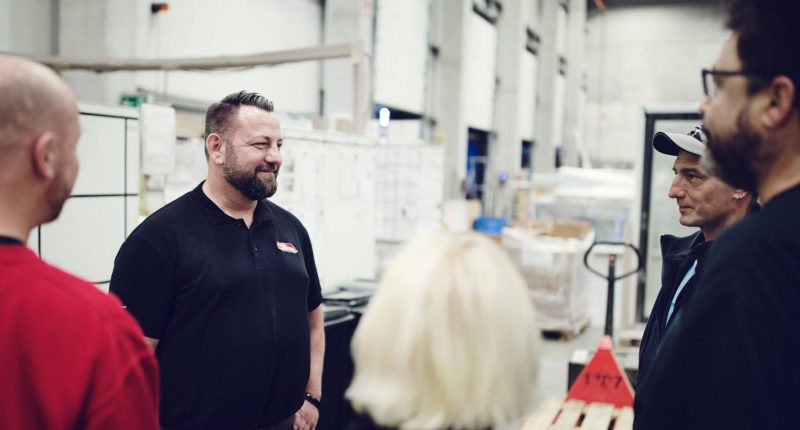 Thorben Giminski started as a warehouse employee at Wittenberger Weg in Flensburg in 2012. Today he is a team leader of 35 employees at our Dovista warehouse.
The 20,000 m2 warehouse at Am Güterbahnhof abounds with doors and windows from the Danish-owned Dovista Group – and in the middle of the glass sections stands Thorben Giminski, 44, who controls the troops.
– Yesterday we had 41 inbound vehicles and 34 outbound. It was a busy day, Thorben says with a smile that clearly shows he likes being busy.
– I've always liked to be challenged. When I started working at Frode Laursen, it was as a regular warehouse employee, but once my boss could see that I wanted more, he asked if I would like to help with starting the Dovista warehouse up.
A good boss
Thorben said yes, and he has now worked with windows and doors for 5 years.
– I have gradually been given more and more responsibility, and I really like the fact that my daily work life is full of different tasks, from planning tours and customer management to stand up meetings with my employees.
– I try to be a good boss, he says with a smile, and continues:
– I like to give the employees freedom and responsibility. In that way I perhaps fit better into a Danish company than a German company, where you put people into 'boxes' a bit more.

Every opportunity
That such 'boxes' do not exist at Frode Laursen is something that Thorben really appreciates.
– Here you have all the opportunities you could wish for. It depends entirely on yourself. If you give something extra, then it will be seen. I feel always, in any case, that the company has supported me in my development, says Thorben, who is certainly not finished with either developing or Frode Laursen.
– I like my job and I like the company. So I'm counting on being at FL for many years to come.