42 years at Frode Laursen: "We've always been looked after well"
10. October 2023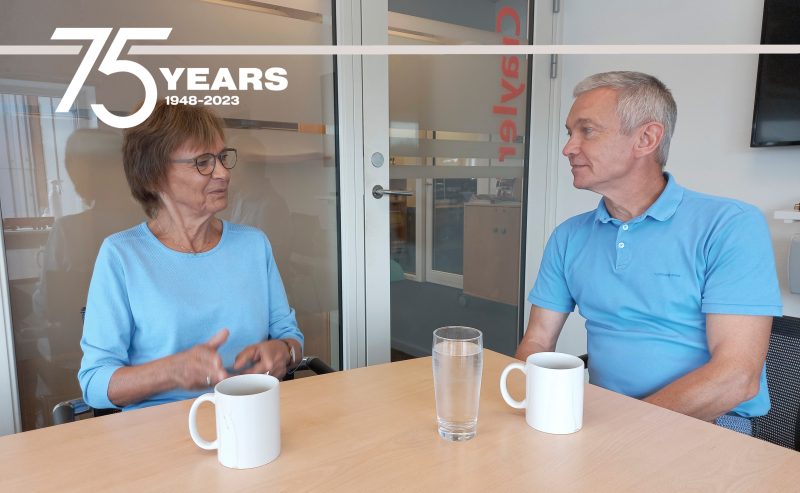 For more than 42 years, Lisbet Kristiansen and Skjold Mathiasen have said good morning to each other every day across their desk in the finance department. Lisbet started on 1 June 1980, and was joined a year later by Skjold, with both of them working in the old porter's lodge which back then served as Frode Laursen's head office in Vitten.
"Frode was a big change, because I'd been working for a larger company before. There was also a completely different tone of voice, because here it was much more informal and we used our first names, which took some getting used to. However, once I'd started and got to know everyone, I was very happy with the job," says Lisbet, who was no longer called Mrs Kristiansen.
While Lisbet had to get used to a smaller outfit, the opposite was true for Skjold. He started as a trainee, straight out of school.
"It was quite a mouthful for a 17-year-old. I was shy, and I thought it was a big company.  The freight forwarders and the drivers didn't mince their words, and I had to get used to that," he says.
"I certainly remember the day he arrived – a quiet boy," says Lisbet, smiling.
"Well, I felt very unsure of myself in so many ways. However, it all worked out in the end, because you could always ask someone if you were in doubt about anything. People were keen to pass on what they knew," says Skjold.
The finance department, which used to be known as the bookkeeping department, was staffed by Lisbet, Skjold and a few other employees.
"There were probably 20 of us altogether at the office, but not many in finance. But that's what it was like back then. We all knew each other," says Lisbet, and Skjold adds:
"The drivers dropped by the office in the evening and handed in their vouchers, and the export drivers exchanged currency, so everyone got to know each other. At least, I always waved at every Frode truck I saw when I was out driving."
Growth and values
The sense of closeness has obviously disappeared slightly because Frode Laursen is now much larger, but both Lisbet and Skjold think that, in spite of the company's growth, we have managed to hold onto fundamental values such as respect, responsibility and propriety.
"However, things are not like they used to be, which is just as well, otherwise we wouldn't be where we are today. We've been good at embracing change. There have been short chains of command, which has resulted in faster decision-making. And the management has been prepared to act boldly when necessary," says Skjold.
Lisbet agrees:
"It doesn't make sense sticking to the old ways. Things obviously change, and I then have to find out whether I want to be part of it and stay. Basically though, it's been pretty easy, because Frode Laursen has always been a good workplace. I've been looked after well from the word go, and the company has always valued my efforts," she says.
Strong feelings
Skjold and Lisbet both share strong feelings for Frode Laursen. This becomes very apparent once they start talking about what their work means for them.
"It might sound slightly clichéd, but I started here as a boy, and I'm now sitting here as a man. A lot has happened over the years, both here at work, where I've been given lots of responsibility and learned all that I know today. You spend most of your time working, and your colleagues have also witnessed the ups and downs in your life.  So, it's clear that feelings run deep after 42 years. In fact, it could hardly be otherwise," says Skjold in conclusion.