A green solution for everyone
30. April 2023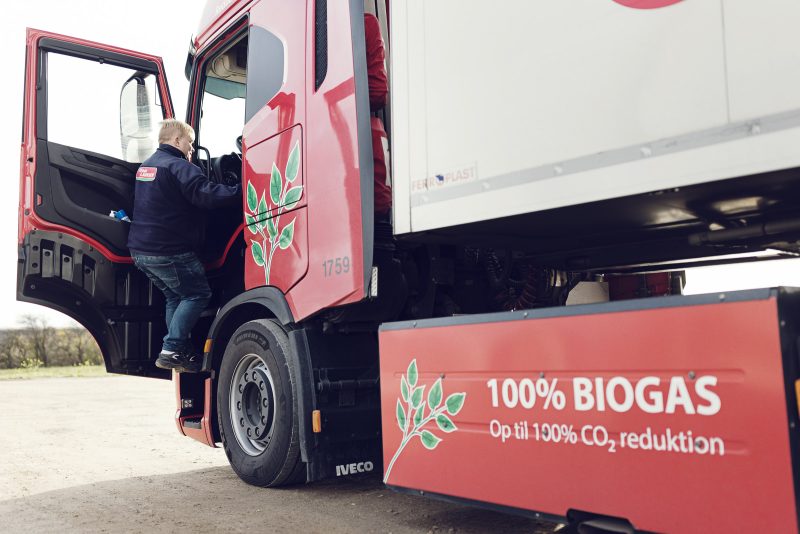 The green transition is high on the agenda at Frode Laursen. As one of the leading logistics companies in the Nordic region, the company is constantly focusing on optimising not only its own but also its customers' business – and here the green transition plays an important role.
"Many of our customers have set themselves a net zero goal, and we must obviously help them to realise this," says Frode Laursen's CEO Thomas Corneliussen, adding:
"We are all waiting for Power-to-X and electric trucks, but it will be some years before these can be implemented on a scale that also covers heavy goods transport. The technology is being quickly matured, but installing the necessary infrastructure and capacity will take much longer. While we wait, we have decided to invest in other alternative fuels to allow our customers to reduce their carbon emissions significantly."
Frode Laursen's customers are offered different solutions depending on the nature of the transport task. If Frode Laursen drives a particular truck regularly for a customer, it is possible to agree on switching to biogas instead. For customers using Frode Laursen's multi-share concept on the other hand, the company offers its 'Green Fuel Quota Concept,' where refuelling with green fuels is guaranteed and fully documented 1:1.
"Frode Laursen's multi-share concept, where our customers share logistics centres and transport, is in itself sustainable because it saves resources. Through our Green Fuel Quota Concept, we can now also guarantee our customers that their goods are transported using sustainable fuels," says Thomas Corneliussen.
Collaboration leads to sustainable solutions
 In Frode Laursen's Green Fuel Quota Concept, the customer's exact share of Frode Laursen's total CO2 emissions is converted into hydrotreated vegetable oil. This biodiesel reduces the carbon footprint by at least 88%. Consumption is documented and audited by the accountancy firm Ernst & Young (EY).
"Our customers have really embraced this initiative, and it has been one of the contributing factors to us being able to reduce our CO2 emissions from transport by 8% last year," says Thomas Corneliussen. 
"Our quota scheme is one example of how Frode Laursen and our customers and suppliers are taking a more alternative approach to finding sustainable solutions. From our point of view, collaboration is at the crux of this green transformation – not just in terms of coming up with new ideas, but also when implementing the solutions."
Green Warehouse Vision 
Frode Laursen's most significant carbon impact stems from transport, but the logistics centres are also key focus areas. All the logistics centres run on green electricity, and recently Frode Laursen opened its first logistics centre, built in line with the company's Green Warehouse Vision. Here, the focus is on building and running the logistics centres as sustainably as possible, and in future, all buildings will be designed and constructed in line with this vision.
"For us, it's important to think sustainability all the way round so that, apart from offering more sustainable transport, we can also offer warehouse space with a reduced carbon impact. In this way, we can help our customers reduce their carbon impact in this area."