Progress and major investments at Frode Laursen A/S
28. May 2018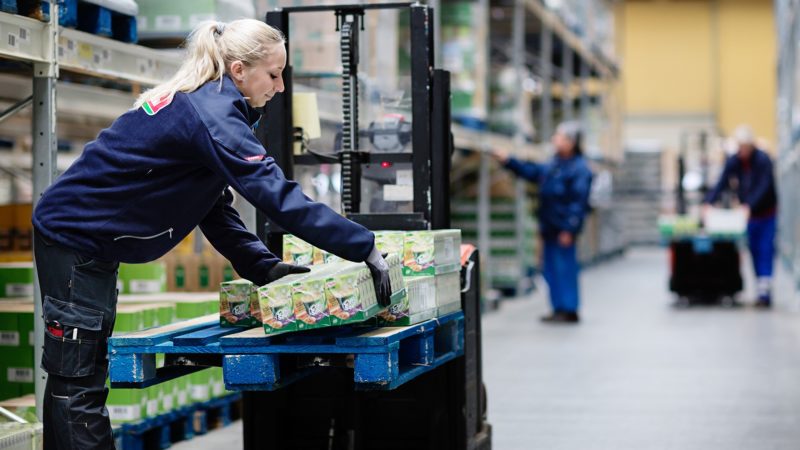 Progress and major investments at Frode Laursen A/S
Frode Laursen A/S exited 2017 with an increase in profits and greater revenue than the year before. This is due, among other things, to its customer approach and the successful implementation of initiatives to improve productivity and increase activities outside of Denmark's borders.
In 2017, Frode Laursen A/S delivered a profit of DKK 38.9 million before tax, which is an improvement on the previous year's profit of DKK 21.5 million. The profit is built on a turnover of DKK 1,889 million, among other factors, but is also due to the implementation of a range of performance-enhancing initiatives. Equity amounts to DKK 268.5 million, resulting in a solidity of 38.4%.
– We are satisfied with the result for 2017. In a highly competitive market, we are pleased that our multi-share logistics system is chosen by more and more companies in the Nordic region. At the same time, we are also grateful to our employees again this year, who have delivered a great effort in the form of high-quality and efficient operations, says owner and Director of Frode Laursen A/S, Thorkil Andersen.
The employees' huge efforts are rooted in Frode Laursen's core values of being there for the customer, focusing on improvements and everyone taking responsibility.
The value of taking responsibility is also adhered to when it comes to the surrounding community. At Frode Laursen, there is a belief that being a company comes with a special responsibility towards the society it is a part of. This is why it has chosen to focus, amongst other things, on the reduction of energy consumption and CO2 emissions, good behaviour in traffic and making a positive difference to its local communities. Therefore, amongst other initiatives in 2017, Frode Laursen spared the environment a further 362 tonnes of CO2 per year, maintained a strong focus on the self-regulation of drivers' compliance with driving and rest periods, and enjoyed active cooperation with, for example, Skanderborg municipality in order to get the long-term unemployed back into work again.
2017 also saw the beginning of building extensions and new constructions that amount to significantly extra warehousing square metres in Sweden and Finland. When the last 27,000 m2 are ready in Kerava, Finland, in the autumn of 2018, Frode Laursen will have a total of 550,000 m2 of covered warehouse space.
Expectations for 2018
Frode Laursen will continue to be a strong logistics partner within the business areas of FMCG, building materials and recycling in the Nordic region, as well as in international transport between the Nordic countries and Europe.
– We expect our growth and focus will be on our own warehouse activities outside Denmark, as well as transportation in Scandinavia and Europe, says Thorkil Andersen.
Frode Laursen sees a great competitive advantage in having a large proportion of its own trucks and drivers in comparison with competitors. As was the case in 2017, the company's biggest task is therefore ensuring capacity, including specialist employees and, not least, qualified drivers.
With the increased influx of customers and additional warehouse space in 2018, Frode Laursen expects to continue evolving through stable growth with a focus on maintaining earnings.
Since a substantial part of the growth is expected to come from the Nordic countries, the development of the Swedish and Norwegian currencies, together with strong competition on the Danish transport market, are considered to be factors that could affect the overall result in 2018.
Facts about Frode Laursen Group
Frode Laursen A/S is part of Frode Laursen Group, which includes transportation and logistics solutions within:
Groceries – FMCG (dry, refrigerated and frozen goods)
Building materials
Petrol and oil distribution, as well as dangerous goods
Recycling transport
The total turnover for the entire group in 2017 was DKK 2,650 million. Frode Laursen Group has approximately 2,350 employees. Frode Laursen Group employs 450 hauliers to supplement Frode Laursen's own 750 trucks.
Besides Frode Laursen A/S, Frode Laursen Group includes IN-STORE A/S as well as the part-owned Skanol A/S (including subsidiaries in Sweden and Norway) and Agri-Norcold A/S.