Battling dyslexia and ADHD: Working at Frode Laursen has transformed Gavin's life
27. October 2023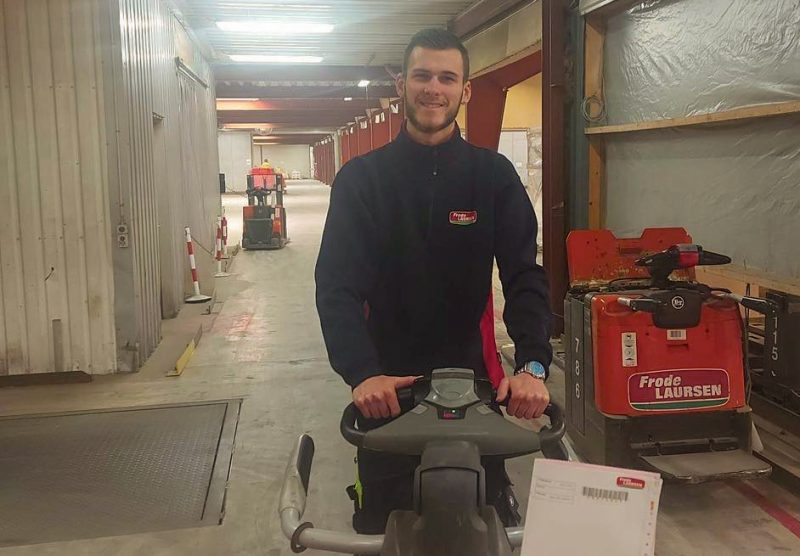 "It's meant so much to me. A few months ago I felt so unhappy, because I've applied for thousands of jobs and haven't been able to find my way in life. Now, however, I've landed this job, and have something to look forward to every day."
This is how Gavin Southwick (22), an HGV apprentice driver in Tølløse, sums up his situation. Dyslexia and Attention Deficit/Hyperactivity Disorder (ADHD) meant that he had a tough time at school, so he has been looking for a job for a long time. The New Apprenticeship programme is the perfect match, because it gives him a vocational education without having to spend too much time in the classroom. On top of which, working as a driver helps him to keep the lid on his ADHD.
"I've always found it difficult to concentrate, but it's no longer a problem. There's a lot happening around you when driving, and you have to keep an eye on all sorts of things. Therefore, I simply have to concentrate on what I'm doing. As a result, it's quite demanding being at work, and I'm pretty tired by the time I get home at the end of each day. That said, it now means that I sleep much better than I used to. Which is important if you have ADHD," says Gavin, who therefore doesn't have anything against working long hours.
Helpful colleagues
At the same time, there is always a clear plan for what Gavin needs to accomplish in the course of the day. Which also helps his ADHD.
"I'm given clear instructions, and that's something which people with ADHD appreciate. It's clear that you sometimes have to tackle unexpected situations, and that occasionally throws me off course, but it only happens once in a while. And if it does happen, I just call the terminal and find out what I need to do. Everyone here is so kind and understanding. I'm still only an apprentice, so the learning curve is still quite steep," he says.
Gavin's journey into the world of HGV driving and Frode Laursen started at a job fair in Holbæk on Zealand. Here, he started chatting to Kasper Schøler, HR manager at Road DK, and Jim Kjøler, terminal manager in Tølløse.
"I've always enjoyed driving, and I also had a category C HGV driver's licence. So I thought that becoming a truck driver could be interesting. And after talking to Kasper and Jim, I felt that it might well lead somewhere. And then Kasper fortunately called me the following day and asked whether I'd like to start. And I obviously said yes!" says Gavin.
A completely new person
He has not regretted the decision for a moment, because he's become a completely new person, as he himself puts it. Even though he obviously has bad days, there are now far more good days than bad days, which is not how it used to be:
"It's really turned my life upside down, and it's all thanks to Kasper and Jim. It was Kasper who arranged everything, and who sorted out the paperwork. And it's Jim who I'm in contact with every day, and who gives me the support and help I need. I'm so grateful for this opportunity that I've been given."
What is the New Apprenticeship programme?
The New Apprenticeship programme is a vocational education which starts with practical training in the company – and thus not at a VET college like the ordinary trainee HGV driver course. Therefore, it is necessary to have a training agreement with a company that wants to take you on as an apprentice.
"Most of the training happens with us, which means that we have to assume greater responsibility in relation to the college," says Road DK's HR manager Kasper Schøler, adding:
"Moreover, in this case it has been decisive that Gavin possesses certain skills that we can build on. What he lacks he will learn in school, but it's minimal. So, it required some paperwork, which wasn't that straightforward, but it's been well worth it. We are subject to certain conditions, and it's a question of being slightly flexible when having to find drivers," says Kasper Schøler.