Growth in the Nordic region creates demand for new equipment
12. June 2017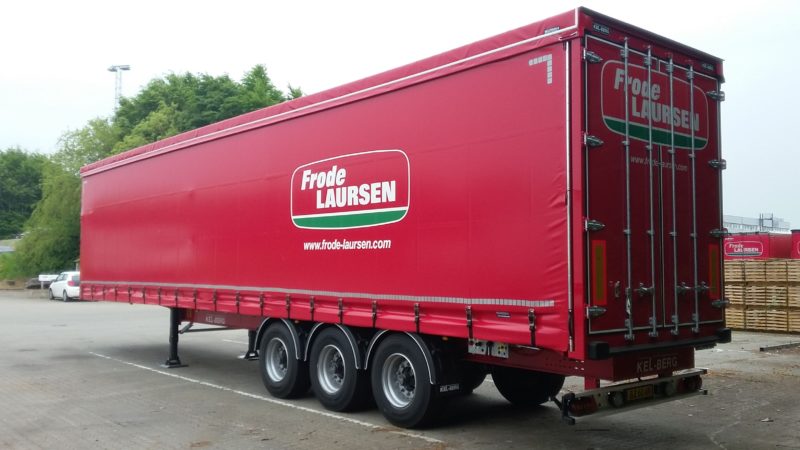 Growth in the Nordic region creates demand for new equipment
Frode Laursen is experiencing strong growth in the Nordic countries, especially within groceries, recycling and hazardous goods. As a response to this growth, we are implementing several measures, including investment in new refrigerated trailers, box trailers, soft drink and beer trailers, walking floor trailers and road tankers, which are due for delivery later this spring and summer.
45 refrigerated trailers for retail distribution
Frode Laursen has purchased 45 new refrigerated trailers for retail distribution. The trailers will be supplied by Krone in Padborg complete with the latest Thermo King unit – the SLXi-300 model. They are also equipped with extra reversing lights and a BÄR BC 2500 S4-CA type Cargolift loading tailgate. They have a peak load of 2.5 tonnes and are also the first trailer-mounted BÄR lifts to be used at FL.
10 new walking floor trailers for recycling jobs
Frode Laursen has ordered a total of 10 new 93m³ walking floor trailers built by Knapen Trailers in the Netherlands. As the name suggests, a walking floor is a moving trailer floor that alternately pushes and pulls the flooring boards. This sets the goods in motion and makes it seem like "the floor is walking". The movement is produced by hydraulic pressure from the lorry, making it easy to load and unload pallets, pellets and refuse.
Before the trailers are put into service, they must first visit Frode Laursen's workshop in Vitten, where they will have a Dhollandia slider/fold-away lift fitted. All 10 trailers will primarily be used to transport recycling.
30 box trailers for retail distribution
At the beginning of the year, Frode Laursen received delivery of 30 new 3-axle city box trailers for retail distribution. The trailers were supplied by Krone in Padborg, and are equipped with an axle lift on the first axle. Extra work lights have also been fitted to both the side of the trailer and the rear of the box. This means there is plenty of light on the loading and unloading area, which is very useful given that many deliveries take place in the hours of darkness. The loading tailgate, or tail lift, is a Dhollandia product and has a maximum load of 2.5 tonnes.
20 new soft drink and beer trailers
In May 2017, Frode Laursen took delivery of 20 new Kel-Berg soft drink and beer trailers. The trailers, which were supplied by Lastas in Hedensted, are built on stronger side members than a normal curtain trailer. Each of the trailers is equipped with a lifting roof and associated safety brake to ensure that the trailer cannot be moved if the roof is raised. Inside the trailer is a swing gate, or wicket, which can be used to secure the freight with the correct weight distribution when it is meant to be loaded in two layers.
New SKANOL semi-trailer for Sweden
The majority of the vehicle fleet in Sweden, which transports oil and petrol, is a 3 axel rigid tractor with 4-axel drawbar trailer behind with a total weight of 64 tonnes. SKANOL is now supplementing its 18 rigid/drawbar trailer units with a semi-trailer for short trips, because this is quicker to load and unload. The new semi-trailer, which consists of a Scania 490 hp bogie tractor and a Bilcon trailer, has a total weight of 56 tonnes and a total length of 19 metres. The specification ordered for the truck and trailer must be specified for the country they will be usedin," says Finn Petersen, who is the technical manager at SKANOL.
"In Denmark we need to have 4 axles to achieve a total weight of 56 tonnes, while in Sweden it's the distance between the axles and in particular the distance between the front and rear axle that is significant for the cargo capacity," he explains.
The 3 axel rigid tractor measures 3,900 mm between the front axle and the power axel, while the trailer measures 16.6 metres between the front and rear axles. SKANOL in Denmark has just ordered five new trucks and two new 4-axle trailers.
By continuing to make major investments in equipment, we are ensuring not only continued high quality and a high level of flexibility, once equipment is improved or can be used for several types of freight but also, and particularly, safety in relation to the handling of goods and in road traffic.