Mentor at Frode Laursen: "Ole is worth his weight in gold"
10. August 2023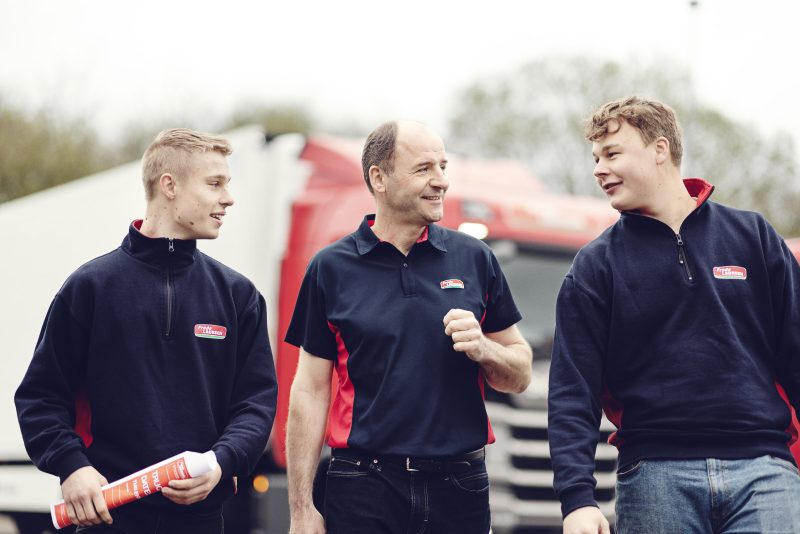 As a mentor for our apprentice HGV truck drivers, Ole, a freight forwarder in Road DK, draws on his own experience as a driver. It's great being able to help them learn the ropes, says Ole about the apprentices, who think he is worth his weight in gold.
Training new drivers isn't always a smooth process. So, when six apprentice HGV drivers started at the same time last summer, Ole Knudsen from the freight forwarding office was slightly sceptical about taking on so many at once. However, any doubts were soon replaced by enthusiasm for the young apprentices, who he has basically been a mentor for ever since.
"I'm a mentor in the sense that I draw up their work plans, plan their trips and help them if they run into problems. And I think it's fantastic how wonderful they all are. It's great to see how keen they are to get out and drive. On the other hand, they can also be a bit uncertain about things. And even though I try and take their wishes into account with regard to route planning, I think it's important that they try their hand at everything. When they've had a difficult trip or dealt with a challenge, it's obvious how proud they feel. They boast about what they've managed to do, which I love," he says.
In addition to the apprentices' enthusiasm for truck driving, they also inject a bit of life into Ole's working day.
"They usually arrive for work at the same time every morning, bringing with them lots of positive energy and cheerful spirits. It's important that everyone talks to one another nicely, because then the working day is much more enjoyable, and they definitely contribute in that respect," he says.
He looks after us well
When asking Benjamin Nedergaard Larsen (20) and Christian Pedersen (18), who both started as trainee HGV drivers at Frode Laursen last summer, they don't hesitate for a second to say how much they like Ole.
"Well, in a nutshell, he's really nice and looks after us. We know we can always go to him if we run into problems, and that means a lot. He's always around, which is very reassuring. At the same time, we get the sense that he's looking after us. We know we can rely on him, because he does what he says. He's just worth his weight in gold," say the two apprentices in unison.
According to Benjamin and Christian, it is a big advantage that Ole has been a truck driver himself, because it means he understands what the work involves.
"It means that he doesn't give us a job which we can't do in the course of the day. And in the event of any problems, he always has a trick up his sleeve, because he's been in the same boat himself. In that way, he's a great instructor, because he knows what he's talking about. And if he assigns us to a particular task, it's because he is confident that we'll be able to complete it. Altogether, it means that Frode Laursen is a fantastic place to be an apprentice, because we're able to try our hands at different things and learn a lot. And yet we never find ourselves in deep water," they say.
Draws on experience
Ole's career at Frode Laursen did not start in the freight forwarding office. His first job was at a warehouse, and he worked as a relief driver before he was employed as a driver in 1991. Then, after driving for 10 years – with all types of goods – he was asked whether he wanted to work in the office.
"I felt far from certain that it was something for me, but eventually I said yes. And I soon discovered that working as a freight forwarder is really interesting. I like the challenge of having to get everything to fall into place in the course of the working day, and, of course, I have a lot of experience to draw on in my work, and now also with the apprentices," says Ole, adding:
"It reminds me of what I was like at that age. I can see myself in them, because all I wanted to do when I was young was to be out on the road. Back then, however, we had to stand on our own two feet much more, so today I try and help where I can by passing on some of my experience. And I'm thrilled to hear that it's appreciated!"