On the road with Kjeld: Driver and ambassador
16. April 2020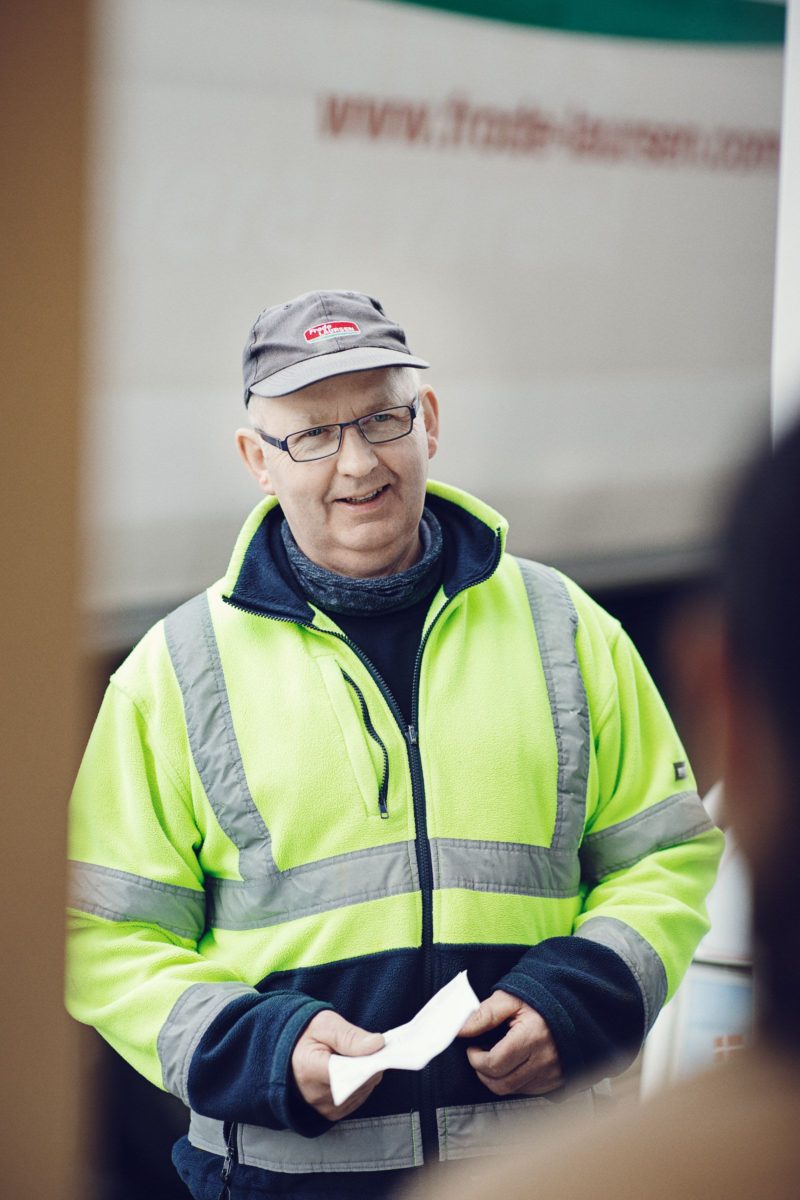 The truck slowly reverses in down a narrow alleyway  in Aalborg. An elderly gentleman is cycling in front of the cab, and when the truck stops at the goods delivery entrance, and the cyclist can pass, he sends a thumbs-up and a nod to the driver in the cab.
"Yes, I get that every so often in here. People saying: 'That was well driven' – and it makes you feel chuffed for a while."
The man behind the wheel is Kjeld Asfere (56), who has been driving for Frode Laursen for 24 years. Kjeld makes small deliveries under Road DK, which means that in the course of a single day he visits 15-25 customers, delivering a couple of pallets at each location.
"It's largely the same customers I deliver to each time, so you slowly get to know each other," says Kjeld, while shifting the pallets around after the delivery so that everything is ready for his next destination.
"I like everything to be completely ship-shape before I arrive at the next customer. Then the customer doesn't have to wait while I find the right pallet. I don't think that's quite on," as he puts it.
Ensuring that customers are happy means a lot to Kjeld:
"Taking a bit of extra trouble for the customer goes a long way.
Basically, Kjeld is proud of the job he does.
"I like being part of a company which is clearly going places – the company is always evolving, and efforts are always being made to ensure that the trucks and equipment are regularly replaced and renewed. And then I just enjoy my job as a driver. The way that you're your own boss out on the road. When I leave Vitten in the morning, I make all the decisions, and I'm responsible for my truck and my load. I like that."
In his younger days, Kjeld tried working at a factory, but it wasn't his cup of tea.
"As soon as spring arrived, I found myself gazing out of the windows," he says.
Full speed ahead
Life outdoors also takes up a lot of Kjeld's time when he is off work. Together with his wife Bente, he lives on a disused farm with 11 hectares of land, five horses, three cats, two dogs and a brood of chickens to look after. On top of which, he cycles at least three times a week, ideally more than 50 km each training session.
"I love the exercise. And I'm looking forward to cycling Tour de Taxa this summer, when we'll be cycling from Hobro in northern Jutland to Paris to raise money for the Christmas Seal homes here in Denmark."
He has also started – on the recommendation of the bicycle team's masseur – going to yoga, while his wife has persuaded him to winter bathe with her every weekend.
"So there's not much time for relaxing on the sofa. But that's fine by me," he says with a smile.
There is no doubt that Kjeld likes being on the go, and just as he has a lot to do in his free time, he also packs his working days with much more than just his driving job. In the past, he was the safety steward for many years, and now he is one of the permanent 'master drivers' who teach Frode Laursen's new drivers.
"I think it's a nice thing to do. I like getting to know new people, and I take it as a compliment that I'm doing my job well," he says, adding with a smile:
"And then I'm a quiet little fellow who doesn't scare people away."