One big family
8. July 2019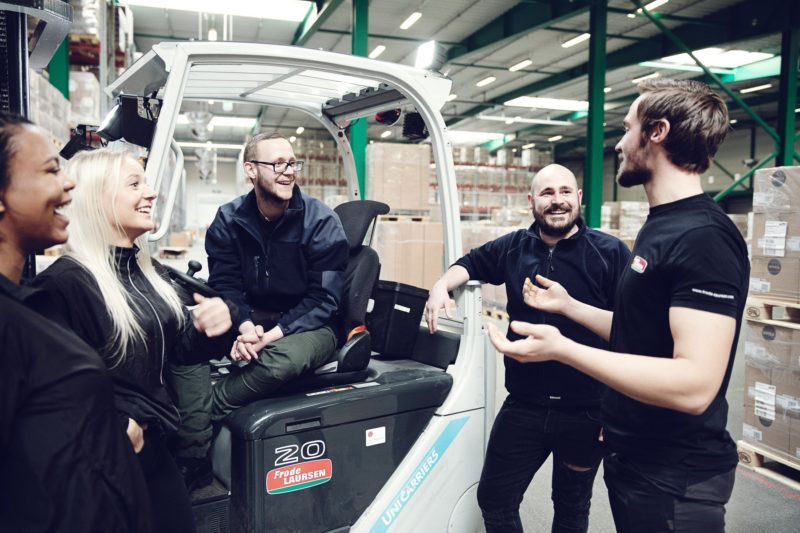 Frode Laursen is a company with lots of families employed. One of those is the Andersson/Rosendahl family – all 5 of whom work at the warehouse in Åstorp.
– I was the first to be hired, says eldest brother Anton, 32, who continues:
– I started out here in 2009 as a temp, but later I became a permanent employee, and then the others came afterwards. The others are little sister Kajsa, 25, younger brothers Ola, 24, and Oliver, 22, and Anton's cohabiter, Franciene, 24.
– They have asked if I have more siblings, but unfortunately I have run out, laughs Anton, who is team leader in picking at Åstorp 1, and thus leader for his little brother Ola, who drives a forklift in the department.
However, the family connection is not a problem in day-to-day life.
– Colleagues might have thought it a little odd in the beginning, but now they can see that it makes no difference. Anton demands just as much of me as the others, says Ola; and Anton adds:
– Yes, in fact, I demand a little more when it's my brother.
At work, we are just colleagues
Oliver, who is team leader in Inbound, insists there is no difference between work colleagues and family members.
– When we are out here, we are all colleagues, meaning that it is important that you do not talk about private matters and family problems at work, he says. Similarly, both Kajsa and Franciene, who both work in co-packing, insist that work is not discussed at home.
– If we get started on that, we'll never finish, Kajsa says. However, such good intentions are not always upheld. Although they are in separate departments, Oliver and Anton work closely together day-to-day, and it is not always that easy to put work to one side. As Oliver says: – We laugh a bit that Frode Laursen gets free work out of us. When we meet for a barbecue on a Saturday, we can't help but plan out everything for the Monday.
Every third employee has family in the warehouse
– We have a lot of families working here in Åstorp. Around 35% of our employees have family working here, says Pia Ekelund, staff manager in Sweden.
– We are, of course, very pleased about this – and also proud of it, because we take it as a sign of having a good workplace where people want to invite their nearest and dearest. Pia says there are no strict rules about how family members can work together.
– We try to put teams together where they don't work directly with each other. But in the end, it is primarily competences that count, and if you can make it work as a family, then it is also okay with us.