Openness helped Lea as a new manager
25. April 2023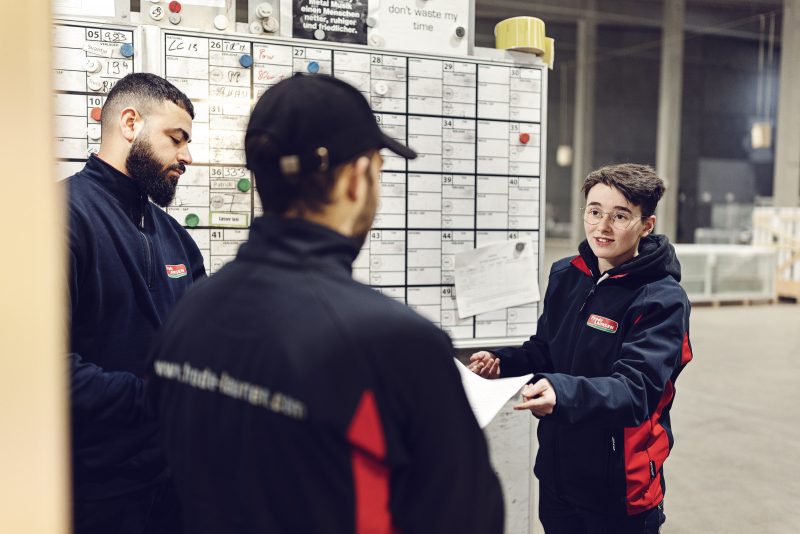 Lea Fähling (22) was completely new to management when, in October 2021, she started as a team leader assistant at one of our warehouses in Flensburg. However, openness, dialogue and good colleagues helped her to surmount her feelings of uncertainty as a young female manager in a male-dominated industry.
When talking to Lea, it doesn't take long before you realise how enthusiastic she is working at Frode. Her face lights up with joy when she describes her tasks and her working day. In particular when she happens to talk about her colleagues.
"Frode really is a wonderful workplace with great colleagues and a strong team spirit. People are friendly, kind and respectful. It's my 'happy place' as I usually call it, and I love being here. And it's also a fantastic place for taking on new challenges and learning new things," she says.
Lea started at Frode Laursen via a temp agency, and it was in the cards from the outset that she would assist warehouse manager Thorben Giminski who was looking for a new right-hand man. However, there was nothing to suggest that things would change as quickly as they did. It became apparent very early on that Lea had some hidden skills.
"We discovered very quickly that she was independent and had lots of drive, so we employed her earlier than planned. Ever since, she has basically helped me with everything at the warehouse, and steps in if I'm not around. And she does so with so much authority and confidence that I don't have to worry at all. I'm very impressed with her," explains Thorben.
Today, Lea works well with the rest of her colleagues, who generally refer to her as the "little boss", and she also spends time with them outside work. There have been a few bumps along the way, however.
"It's no surprise that the logistics industry is quite male-dominated, so it might have seemed a bit strange having a 164 cm-tall 22-year-old woman making the decisions on site. But we've insisted that it has to work, and Thorben has been really supportive. I've just kept on doing things in my own way, and kept on believing in myself," she says.
Openness about insecurity
Even though Lea is now more familiar with the role and feels more self-confident, she still experiences slight pangs of insecurity. However, she is tackling the issue, and she is not afraid of being open about it in the course of her daily work.
"The culture here is very open, which means that I can talk to everyone if I have any questions or need assistance. I think that's been a great help to me. It makes it a really good place to be as a new manager, as it is completely OK to be open about your insecurities and to ask for advice – and without being looked down on," says Lea.
Believing in herself, insisting on doing things in her own way and finding the pluck to ask questions has clearly worked. The challenges are a thing of the past, she doesn't feel nearly as insecure and collaborating with her colleagues ticks along without any problems. When Lea reflects on how she has grown into the job, there is one thing in particular that makes her happy:
"Of course I've had to change a bit, and I'm still working on that. But I've always tried to stay true to myself. In other words, I'm still the same Lea who started here 18 months ago. I haven't had to become a different person in any way in order to fit in, and I'm really happy about that," she says in conclusion.