Martin was ready for early retirement – now he's a permanent employee
22. June 2022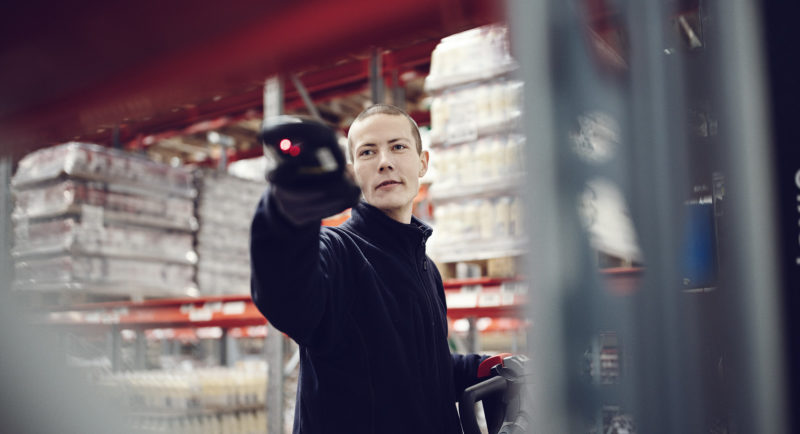 At our logistics centre in Jyderup, we have been collaborating with the local municipalities for several years to help give vulnerable citizens a start in the labour market.
Martin Jensen (27) from Jyderup was one of those who started last year at Frode Laursen:
"I suffer from PTSD and social anxiety, so I was due for early retirement, but through the municipality I came out here," says Martin, who now finds himself under the wings of team leader Karina Öztürk.
"Karina has been wonderful at talking to me and praising me. And then she forced me to start talking to other people," says Martin.
For the past eight years, Karina has looked after everyone who has done work aptitude training in Jyderup:
"I'm probably a mother, schoolteacher and psychologist all rolled into one. I'm matter-of-fact, but I'm also good at praising people, and I also think that I can take on quite a lot at any one time," says Karina, who is looking after six citizens in the packing department right now.
"In the past there have been more, but it works very well with six, because the citizens who are here are having to struggle with quite a lot in their personal lives," says Karina, who has no doubts about what makes her job so satisfying:
"The best thing is when a citizen is employed. It's probably happened about 10-12 times, and it feels fantastic on each occasion," she says.
One of those who has been able to swap work aptitude training with a permanent job is Martin, who was offered a job in the warehouse.
"It was great. It has given me much more self-confidence, and I'm working hard, and it's largely down to Karina," says Martin, who is now also planning for the future:
"I enjoy what I'm doing, but I'm dreaming of becoming a truck driver."