CSR Report 2019: Less CO2 emissions and strengthend initiatives
24. June 2020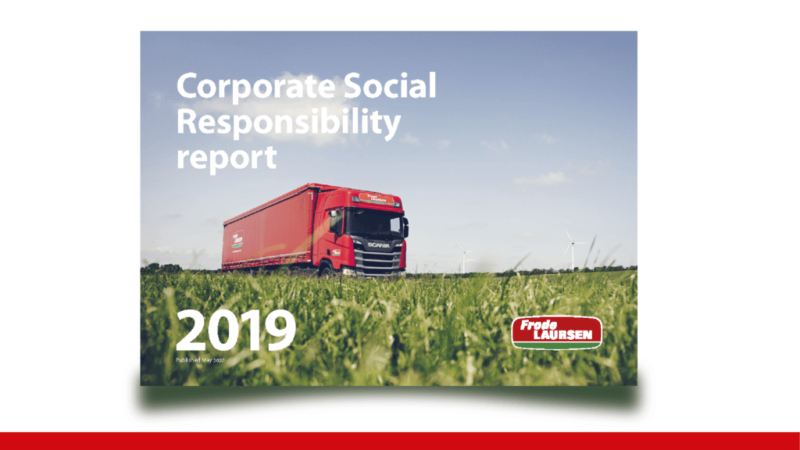 Frode Laursen has published its CSR report for 2019, which shows less CO2 emissions from both its transport activities and buildings.
 In recent years, Frode Laursen has been focusing in particular on sustainability, and the company's CSR report shows that this focus has borne fruit. Thus, both in connection with its transport activities and at the logistics centres, less CO2 is being emitted per tonne-km and per square metre, respectively.
"In our buildings, we have reduced CO2 emissions per square metre by 32% compared to 2018, while our CO2 emissions per tonne-km have been reduced by well over 2%. However, it's no secret that we want to see even higher reduction figures, and we're working hard to achieve this in 2020," says Thomas Corneliussen, Director, Frode Laursen.
Even though the CSR report is the first of its kind for Frode Laursen, the focus of the topics covered by the report is not new.
"Frode Laursen has been working with both social responsibility and environmental measures for many years. For us, CSR is primarily about behaving properly, and having integrity and the ambition to constantly improve, and this has always been very much a part of who we are at Frode Laursen," says Thomas Corneliussen.
Strengthened initiatives
However, with greater focus being placed on sustainability, in particular by employees, customers and society, Frode Laursen has decided to strengthen and structure its initiatives. Consequently, it has been decided to concentrate on two of the United Nations' 17 Sustainable Development Goals (SDGs):  'Decent work and economic growth' and 'Climate action'.
"We've chosen these two goals because we believe that this is where we can make the biggest difference," says Thomas Corneliussen, and explains:
"The transport sector is responsible for about 25% of CO2 emissions in Europe, so it is clear that this is an area where we, as a responsible company, need to take action. At the same time, we're also a company where there has always been a high degree of inclusiveness and focus on employee well-being. We want to work with this even more, which is why we have set 'decent jobs and economic growth' as our second focus area.
Bigger ambitions in 2020
The positive trends from the 2019 report are continuing in 2020 – even though the corona crisis has impacted the first half of the year.
"There have obviously been a couple of months in which all our resources were devoted to dealing with the crisis, but the focus is now back on the longer-term plans again. We have therefore made even more resources available, both in terms of equipment and staff, in order to achieve our ambitions. Among other things, we have set up a dedicated working group and invested in several gas-powered vehicles, so I have high expectations for our CSR efforts this year."